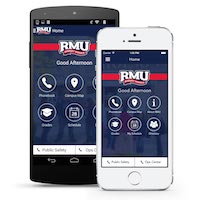 RMU Mobile
The all-new mobile app for RMU. Access your grades and schedule directly in the app. Available for iOS and Android devices.
Learn More

Colonial Guide
Get connected to the right resources at the right time and keep on the path toward academic success. Find your Colonial Guide inthe app store.
Learn More
As students at Robert Morris University, we have been endowed with a unique opportunity to change the world and change lives. The Class of 2014 Gift is our way of helping people outside of RMU to better their lives just as RMU has bettered ours. Robert Morris has given us the tools to a better life, and we want to pass those tools on to others.
Learn more at
rmu.edu/2014
.